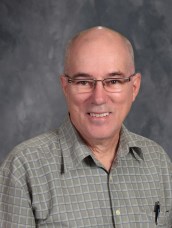 Ben Briggs
Middle School Science
Groups: Middle School
Employed Since: 7/25/2017
1 Years Experience At School
Mr. Briggs received his Bachlors degree in Food Science from the University of Arizona. He worked in Food Service management for 20 years until had an epiphany and went to University of Phoenix to get certified to teach. He taught middle School science at Cross Middle School for 17 years, and retired briefly until he was led to teach part-time here at CCS. Started in August, 2017.
Birthday: April 25
Favorite Food: Burgers or pizza. Mexican, American
Favorite Restaurant: Panda Express, Texas Roadhouse and Athens or Lindy's located 4th.
Favorite Candy: Chocolate.. Reese's Peanut Butter cups.
Favorite place for a treat: Frost
Favorite Fruit: Raspberries
Favorite Shopping Spot: Tubac, Costco, Target, Kohl's
Favorite Drink: Believe it or not; Iced Water or black decak coffee.
Hobbies: I enjoy reading, hiking and cooking. MY wife and I like to camp, travel and spend time with our seven grandkids.