The CCS F.L.I.G.H.T. Summer Program has been canceled for the summer of 2020. We are so very thankful for the families who entrusted us with your children in previous years. We are thankful to God for the opportunity to have provided a fun and rewarding place for your children to spend their summers. Lord willing we will have a summer program once again in the future.
For now, we wanted to provide you with some camp opportunities in our community for you to consider. Please know that we do not have a partnership with any of these camp providers.
*MSM Summer Camp for Middle School students
A high adventure camp, with rock climbing, a high ropes course, a zipline, water slides, rifle range, horseback riding, and a day of community service. Each day consists of two teaching times with worship and small group time.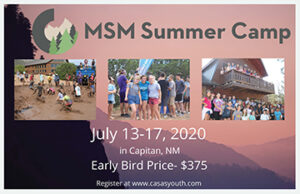 Who: Students who are completing the 5th, 6th and 7th grade in May of 2020.
Dates: July 13-17
Location: Lone Tree Ranch in Capitan, NM (www.lonetreeranch.us)
Cost: early bird price until April 4- $375 (on April 5, the cost goes up to $410)
Register here: www.casasyouth.com/msmsummercamp
*High School Summer Camp
Dates: June 8-12
Location: Point Loma University in San Diego, California.
Cost: $375 until April 22 (it will go up to $400 on April 23).
Registration for High School Camp opens on March 11. The link will be posted soon.
* Summer Camps provided by Arizona Daily Star
* Ascension Lutheran:
1220 West Magee Road, Tucson, AZ 85704
Phone: 520-742-6229 Email: school@alcs-az.org
Administrator: Eva Clonts
* Oro Valley Parks and Recreation camps will be posted here
* Marana Parks and Recreation camps will be posted here
* Catalina Christian Learning Center
May 26th- July 31st
7:15 am -12:30 pm or 7:15 am to 6:00 pm
* Game builders club at Code Ninjas
For ages 7-14 years old.
* Children's Learning Adventure -Child Care Center