Tax credit workshops
All families are eligible to receive tuition assistance through the Arizona Private School Tuition Credit Program. We currently have 95% of our families taking advantage of this opportunity, with almost 54% covering tuition in full!
RSVP for one of our Tax Credit Workshops now. All first time attendees' student(s) will receive $100 scholarship(s) into their accounts.
Arizona residents are fortunate to be able to choose the private school of their choice without the accompanying tuition costs that most think naturally would be needed.
Let us help you understand how the Arizona Private School Tax Credit Program works!
Financial aid is available through the Casas Christian School in-house scholarship process as well as from outside tax credit organizations called School Tuition Organizations (STOs). If you have any questions concerning financial aid please contact Kevin Reinke, our Scholarship Coordinator, at (520) 878-1193 or fa@casaschristianschool.com.
Tax Credit Workshops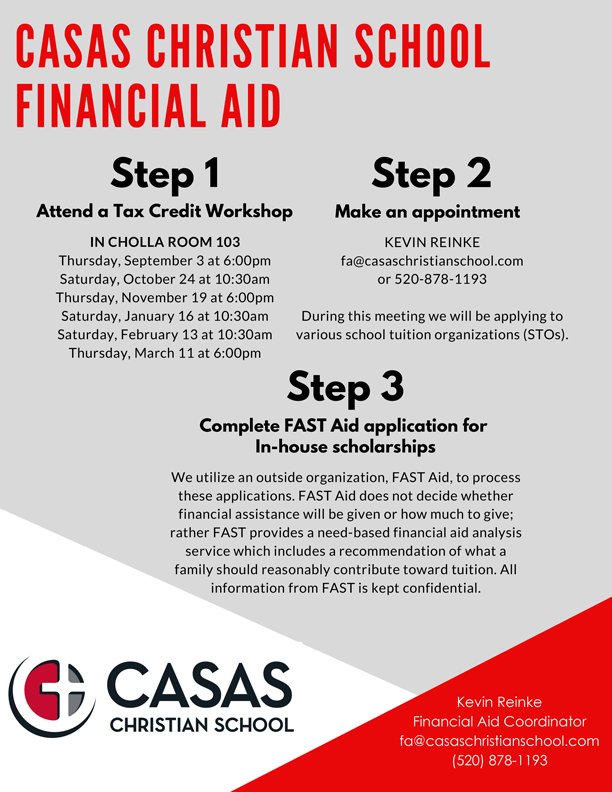 Step 1
Attend a Tax Credit Workshop:
Thursday, September 2 @ 6:00pm
Saturday, October 2 @ 10:30am
Thursday, November 18 @ 6:00pm
Saturday, January 22 @ 10:30am
Saturday, February 19 @ 10:30am
Thursday, March 31 @ 6:00pm
Step 2
Make an appointment for a scholarship meeting with Kevin Reinke by clicking here.  During this meeting, you will be applying to various school tuition organizations.
Step 3
Complete the school's financial aid application. We are utilizing an outside organization, FAST Aid, to process these applications. FAST Aid does not decide whether financial assistance will be given or how much to give; rather FAST Aid provides a need-based financial aid analysis service which includes a recommendation of what a family should reasonably contribute toward tuition. All information from FAST Aid is kept confidential. The application can be accessed by clicking here.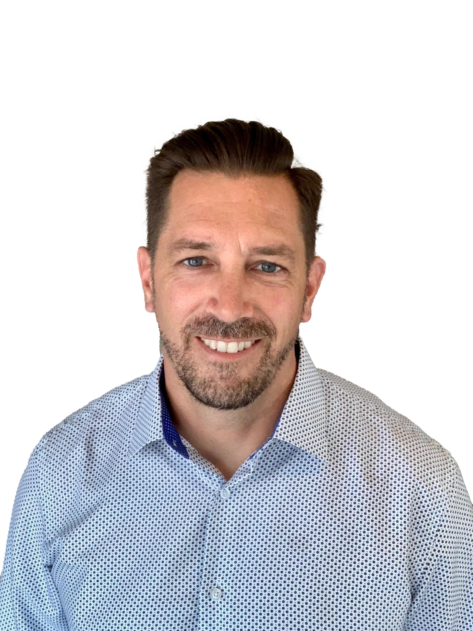 We would love for you to join us at our Tax Credit Workshops hosted by IBE (Institute for Better Education). These informational workshops will give you the tools needed to potentially cover most if not all of your tuition payments!
List of School Tuition Organizations
Tax Credits FAQ
1. How do I donate my tax credit contribution to STO?
BY MAIL: Complete a donation card and mail it along with your check or credit card information (available in the school office).
ONLINE: Click HERE to be taken to the online donation page.
OVER THE PHONE: Call Institute for Better Education (520) 512-5438.
2. How much of my tax liability for 2019 can I redirect?
Single filers may donate up to $569.00 to the Original Fund, plus an additional $566.00 to the PLUS program: Total $1135.00. Married filing jointly may donate up to $1138.00 to the Original Fund, plus an additional $1131.00 to the PLUS program: Total $2269.00. Any donation that exceeds your state tax liability for the year may be carried over for up to five years.
3. How much can my child receive?
If you have a current private school student who has not received corporate funds previously, and who has not received any PLUS funds previously; a donor may only contribute the Original Tax Credit amount (the first half portion) to your specific child. They may however still give the PLUS amount on top of that, but it will go to the PLUS scholarship general fund at whatever school they choose, or to a student that qualifies to receive plus funds by meeting one of the eligibility requirements below.
If you have a child that has previously been awarded a PLUS scholarship/recommended PLUS funds OR if you have an incoming Kindergarten student, incoming public school student, are an incoming AZ stationed military family, or will have an incoming disabled/displaced student, the donor may contribute the total amount (both portions) directly to your child's tuition, as they are eligible for both the Original and PLUS funds.
4. Do I have to donate the maximum amount?
Certainly not. Any donation is appreciated. But you must contribute the full Original Tax Credit amount (the first half) before being able to contribute the PLUS fund amount (the second half).
5. Will I receive a receipt?
Yes. You will get instant confirmation that your donation was received and processed via e-mail from the STO.