Join Our Team
We are honored you are considering joining our incredible instructional team. We are passionate about providing a nurturing, supportive, and engaging learning environment for our students. We are unified in our mission to help students grow in their relationship with Jesus and discover the gifts that have been given to them. If that sounds like a school culture you would be excited to join, please complete one of our applications.
CCS is accredited by AdvancEd and ACSI and has been minis­tering to K-8 students for almost 50 years! We are looking for educators who are passionate about leading in a missional, Christian school environment that focuses on the readiness level of students. If you are interested in joining our team, please fill out an application or contact us at hr@casaschristianschool.com.
Positions available for the 2022-2023 School Year
Substitute Teachers: Ideal candidates will have an Arizona Substitute Certification, love for the Lord, and love for children.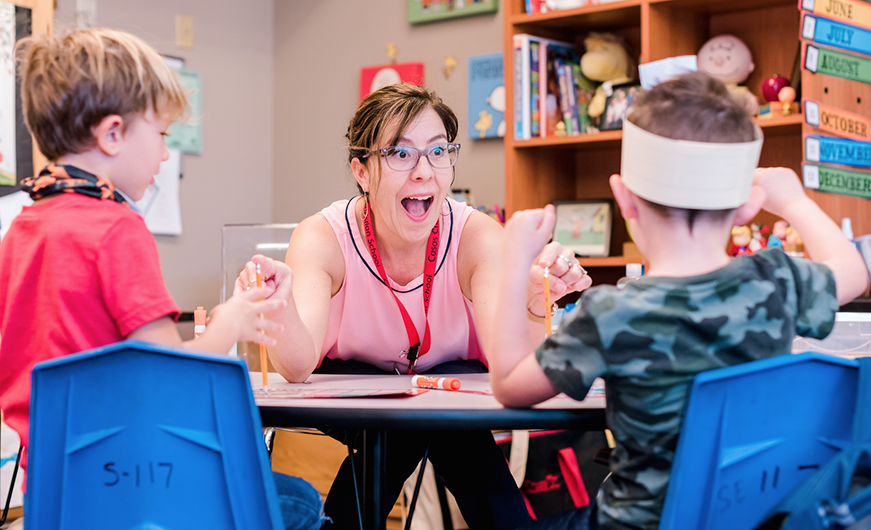 Our Staff
Our administrative staff is here to serve our new and current families. Whether you have questions about curriculum, your child's specific needs, or how to make this unique Christian education possible for your family, they are here to make your time with us a special one.
Casas Christian School's teachers hold certifications with the state of Arizona and the Association of Christian Schools International and approximately 60% hold Master's Degrees in their field. Our teachers love God and are passionate about creating a nurturing and academically challenging learning environment for your child.
We are here to model to all in our community how the supremacy of love manifests itself. View this video of our staff testifying how they have each been transformed…
Name
Title
Group
Contact
Aguirre, Rod
CCS Safety/Facilities Director
Faculty
Barbieri, Alexis
Long-Term Kindergarten Aide Substitute.
Faculty
Casabona, Sarah
5th Grade Teacher
Faculty
Charlton, Rita
Student Instructional Support - K-2
Faculty
Cossette, Patty
6th-8th Math Teacher
Faculty
Dedmon, Katrina
Vice Principal
Administration
Delgado, Kandy
Health Aide/Athletic Director
Faculty
Doyle, Melissa
3rd Grade Teacher
Faculty
Enriquez, April
1st Grade Teacher
Faculty
Freeman, Pamela
MS Social Studies
Faculty
Garcia, Dawn
Student Academic Admissions Coordinator
Administration
Garcia, Robin
MS Math Teacher
Faculty
Garland, Melanie
Executive Administrative Assistant
Faculty
Heriot, Cristina
Student Instructional Support
Faculty
Hewes, Jeannie
Paraprofessional
Faculty
Horner, Melissa
Administrative Assistant
Administration
Hughes, Keith
Transportation
Faculty
Ingle, Elisabeth
1st Grade Teacher
Faculty
Kempf, Joshua
Principal
Administration
Knipe, Debra
Business Manager
Administration
Kramer, Amber
MS Bible
Faculty
Lopez, David
MS Science Teacher
Faculty
Madison, Wendy
3rd Grade Teacher
Faculty
Maidman, Julie
Middle School Orchestra
Faculty
Matack, Andi
5th Grade Teacher
Faculty
Mauck, Erica
Elementary PE
Faculty
McPhail, Sloan
5th Grade Teacher
Faculty
Mitchell, Nichole
Elementary Music
Faculty
Moore, Angela
4th Grade Teacher
Faculty
Morgan, Sheryl
2nd Grade Teacher
Faculty
Nichols, Sarah
Student Instructional Support Director
Faculty
Norris, Jacqueline
MS Language Arts
Faculty
Palloto, Pamela
Instructional Coach
Faculty
Pearson, Laurie
Art Teacher
Faculty
Reinke, Kevin
Dean of Students
Administration
Romero, Shelby
2nd Grade Teacher
Faculty
SIS,
Student Instructional Support
Faculty
Sanchez, Vanessa
1st Grade Teacher
Faculty
Smith, Mackenzey
Kindergarten Teacher
Faculty
Smith-Perez, Jennifer
Student Instructional Support - K-2
Faculty
Snider, David
Transportation Specialist
Support Staff
Solita, Jo-Ellen
Student Instructional Support -4
Faculty
Spillers, Stevie
4th Grade Teacher
Faculty
Steele, Karen
Student Instructional Support- K-5
Faculty
Suastez, Stephanie
Substitute Teacher/Office Aide
Faculty
Swink, Lorri
Extended Care/Lunch Supervisor
Support Staff
Tapia, Denise
Elementary Spanish/MS Band
Faculty
Tarpley, Charlotte
Kindergarten Teacher
Faculty
Taylor, Jazzael
Student Instructional Support -1
Faculty
Tompkins, Cecilia
MS PE/Health
Faculty
Ungren, Molly
Kindergarten Teacher
Faculty
Winkle, Wally Van
MS Discovery Teacher
Faculty
Woody, Brenda
2nd Grade Teacher
Faculty
Zolnowski, Jamie
3rd Grade Teacher
Faculty